New Flyer 8 SUNdeck and SPACEdeck in September 2022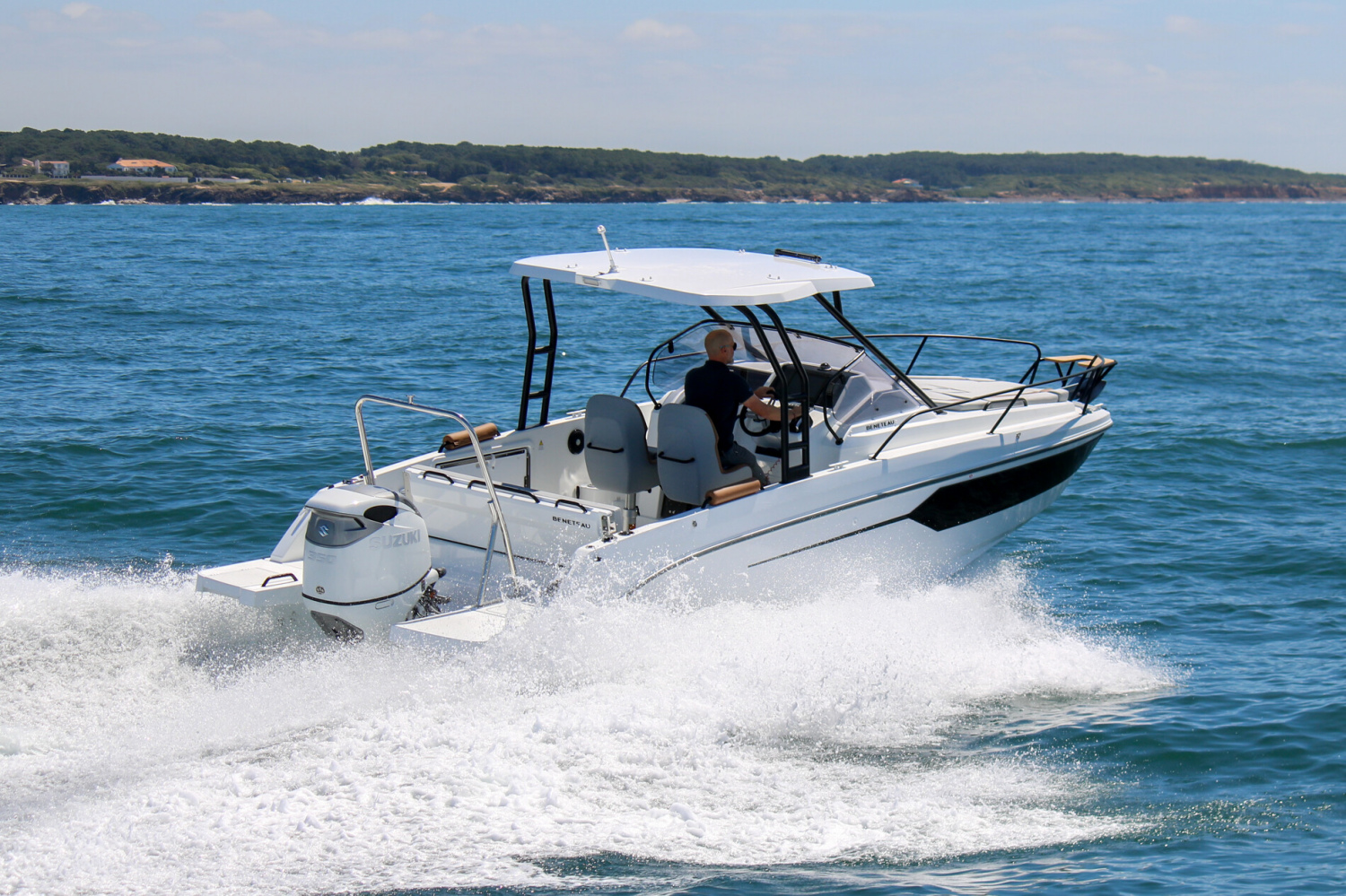 We are happy to announce that Beneteau is launching a new version of the already popular Flyer 8, both in SUNdeck and SPACEdeck variations. The boats are premiering at the Southampton International Boat Show (16-25 September 2022) and Salone Nautico in Genoa (22 – 27 September 2022). Here's what we know.
New Flyer 8 has enhanced levels of comfort, more modern and pronounced design, and offers many new features. With improved ergonomics and style, the new boat will meet all your needs. This dayboat is perfect for making summer memories with your family and friends, whether you're having a drink at sunset or swimming, diving, or trying out water sports.
Michael Guinet, outboard powerboat manager at BENETEAU, has expressed his excitement with the new launch, "We wanted to do more and offer a beautiful eye-catching outboard-powered boat. Working with the Andreani Design team, we made the Flyer 8 much more than a boat for having fun at sea. It now stands out as a beautiful, spirited boat."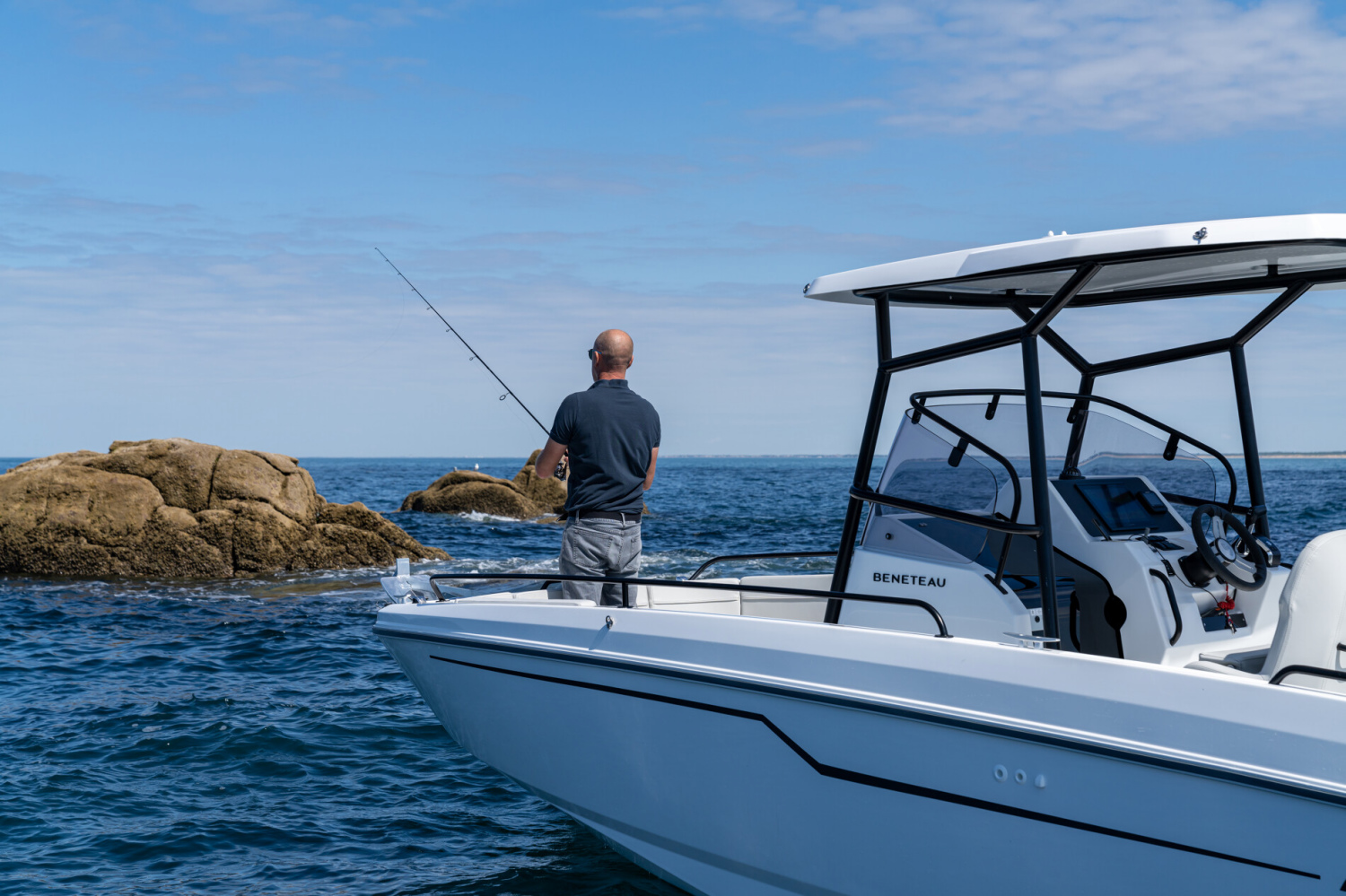 Best blend of elegance and fun
The two versions, despite their differences, have a few important things in common. The deck is longer which eases moving on board, and many small details (for example, black pulpits), make the new Flyer 8 more elegant. Above all, Beneteau uses quality materials and amazing trims, that make this powerful boat feel sporty and modern.
Modularity of the Flyer 8
On board the Flyer 8 one thing is certain: you can adapt everything to your needs. For example, the aft bench converts to a sun-bathing area, and there are even two foldable benches. Moreover, the bolster seats of the skipper and co-skipper quickly and easily rotate to create a cockpit lounge for up to 6 crew members. To ensure easier access to the boat, there are two swim platforms and a completely clear area placed aft of the engine. What's more, the aft bench converts into a sun pad for relaxing and catching some vitamin "sea".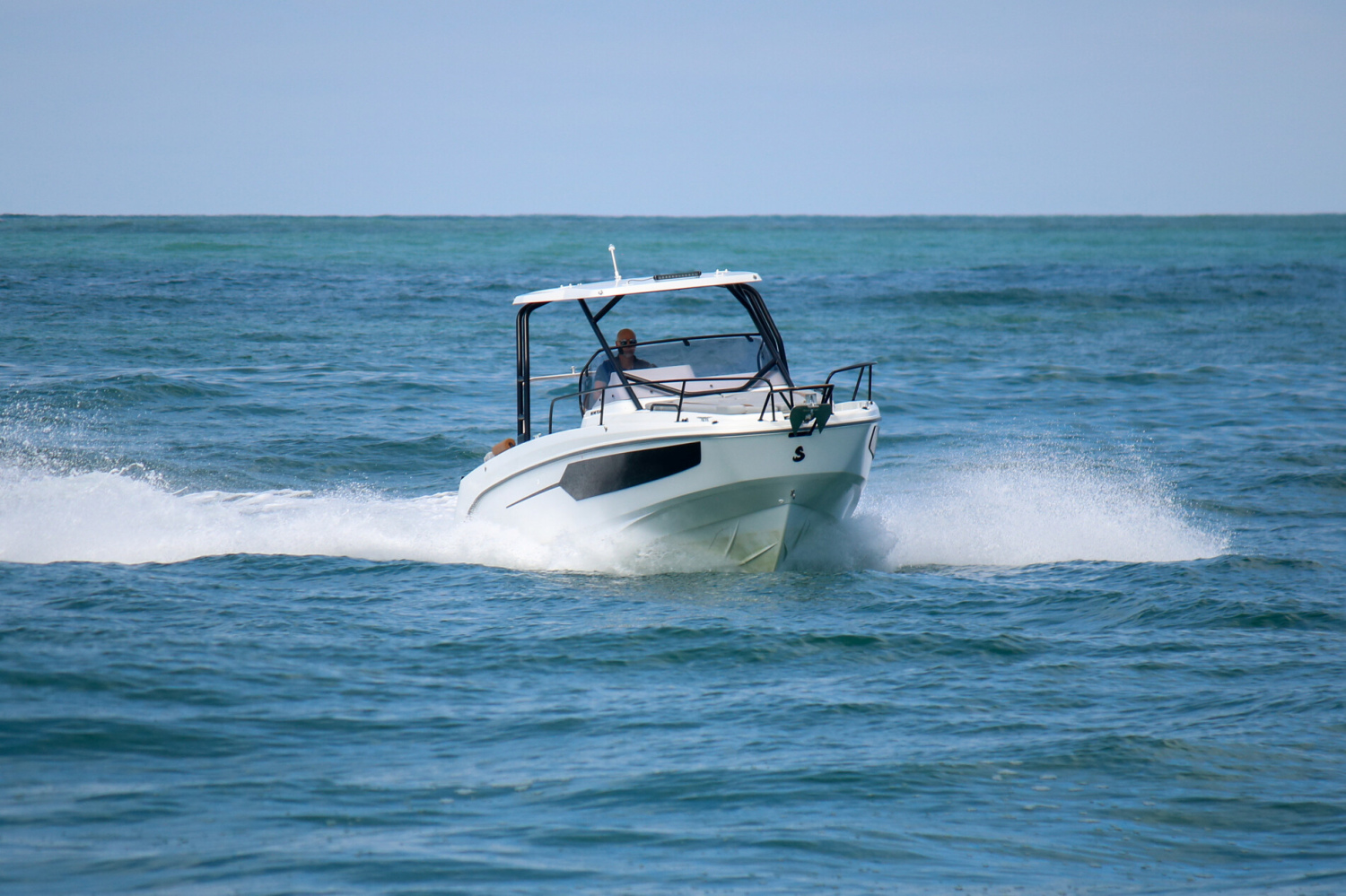 A perfect boat for everyone
The two versions of Flyer 8 with the optional features make them quite adjustable for almost every purpose. For instance, the SUNdeck version has a cabin for your overnight stays. On the other hand, if you enjoy fishing and water sports, you will love the open deck plan onboard the SPACEdeck version and opt for a fishing station instead of the aft bench. Furthermore, it includes a fold-down bench, a live bait well, 2 storage lockers, and 4 additional rod holders.
Are you a fan of surfing? Well, then equip the boat with an aft tow arch built for water-skiing and other towing activities.
Of course, both versions are powerful and have stable control at maximum speeds of 40 knots. The roof's rigid T-Top protects everyone from all weather conditions.
Seanapps for a smarter boat
New Flyer 8 joins the new generation of smart boats with the BENETEAU Seanapps system. Just keep your smartphone at hand to have a detailed insight into the status of battery, fuel or water tank levels, maintenance schedule and more. Besides, you can also use it to plan your routes, and check your navigation. Sounds amazing, doesn't it?
Flyer 8 SUNdeck
Flyer 8 SUNdeck combines all the innovations from the most recent Flyers. For example, the big Smart Walkaround exceptionally eases access to the ample fore deck and its sun pads with reclining backs. If you attach a sunshade to the T-Top, the crew can lounge there all day long!
Flyer 8 SUNdeck is a remarkable all-around boat. Spend your days basking in the sun at two sunbathing areas, a feature that you won't find on any other boat of this size. After sundown, you can get comfortable in a spacious cabin with a vast berth and plenty of openings and glazing. There's a separate head, ventilated by a porthole. Flyer 8 has a galley too, reachable both from the inside and outside.
All in all, Flyer 8 SUNdeck is a true family boat, perfect for leisure activities.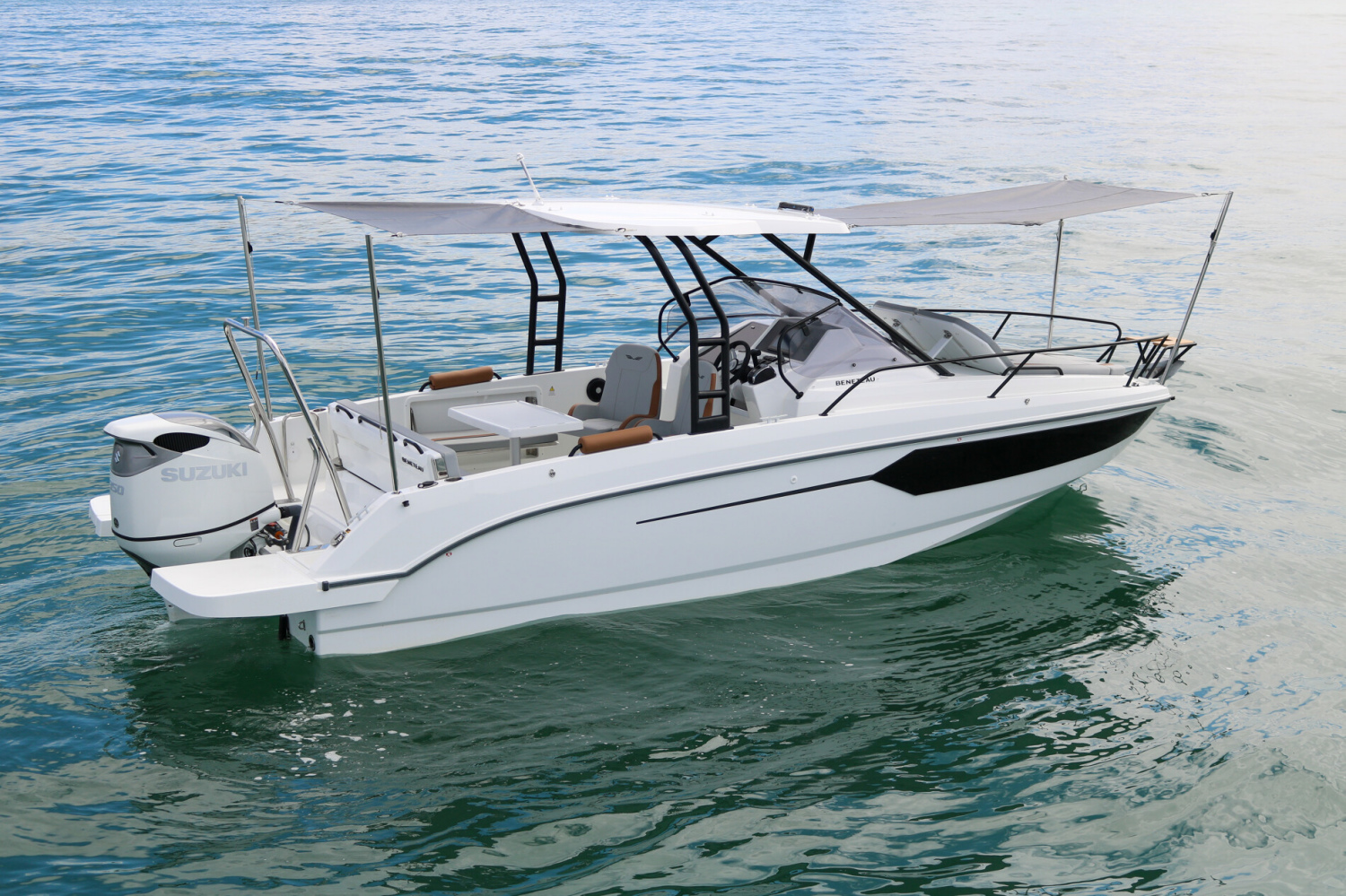 Fyler 8 SPACEdeck
Flyer 8 SPACEdeck is an amazing boat for all fishing and sports enthusiasts who love day trips with friends. The even and practical deck plan enable the extreme comfort and utility on board. Another great feature are the lowered pulpits. Those allow an easier access to the sea. If you're in search of a diving board, you will be happy to find the large anchor well.
Moreover, you can enjoy the sea view underway, too, thanks to the rotating backrests. The smart design of the forward lounge area easily convert into a relaxing sunbathing space.
The SPACEdeck version has a cabin too, with a head and a refrigerator. However, the small berth is just the right size for a kid.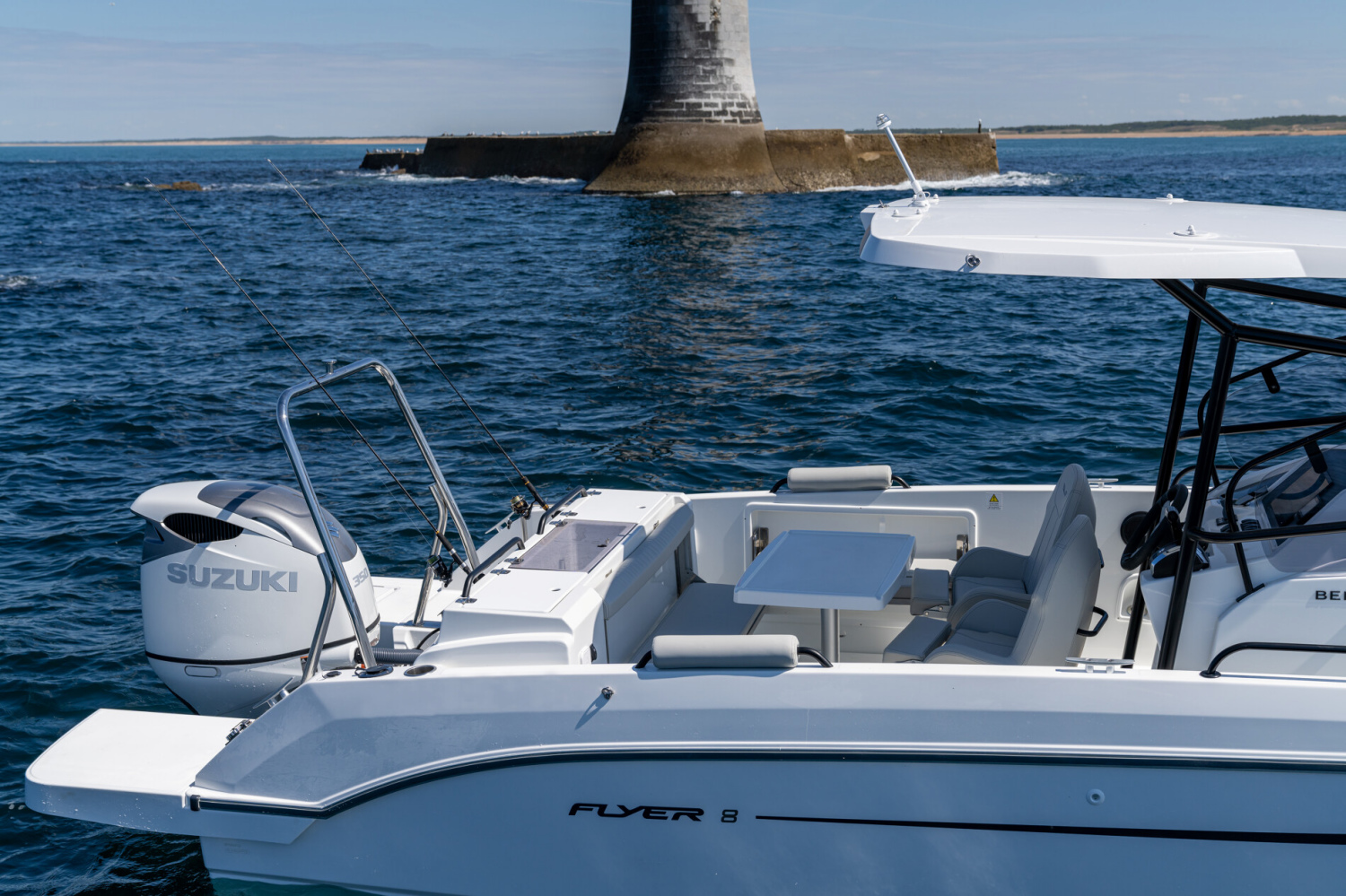 World premiere
The world premiere of the new Flyer 8 SPACEdeck will be at the Southampton International Boat Show, from 16th till 25th of September, 2022. Shortly after that, the Flyer 8 SUNdeck premieres a few days later, at Salone Nautico in Genoa, from 22nd till 27th of September, 2022.
Both versions will be on display at Grand Pavois in La Rochelle (27th September – 2nd October, 2022). To learn more about the new Flyer 8, reach out to your trusted local Beneteau dealer for Croatia, Nautika Centar Nava. Contact us via sales@navaboats.com, by giving us a call (+385 21 407703), or by filling out the contact form below.