Beneteau at Cannes Yachting Festival 2022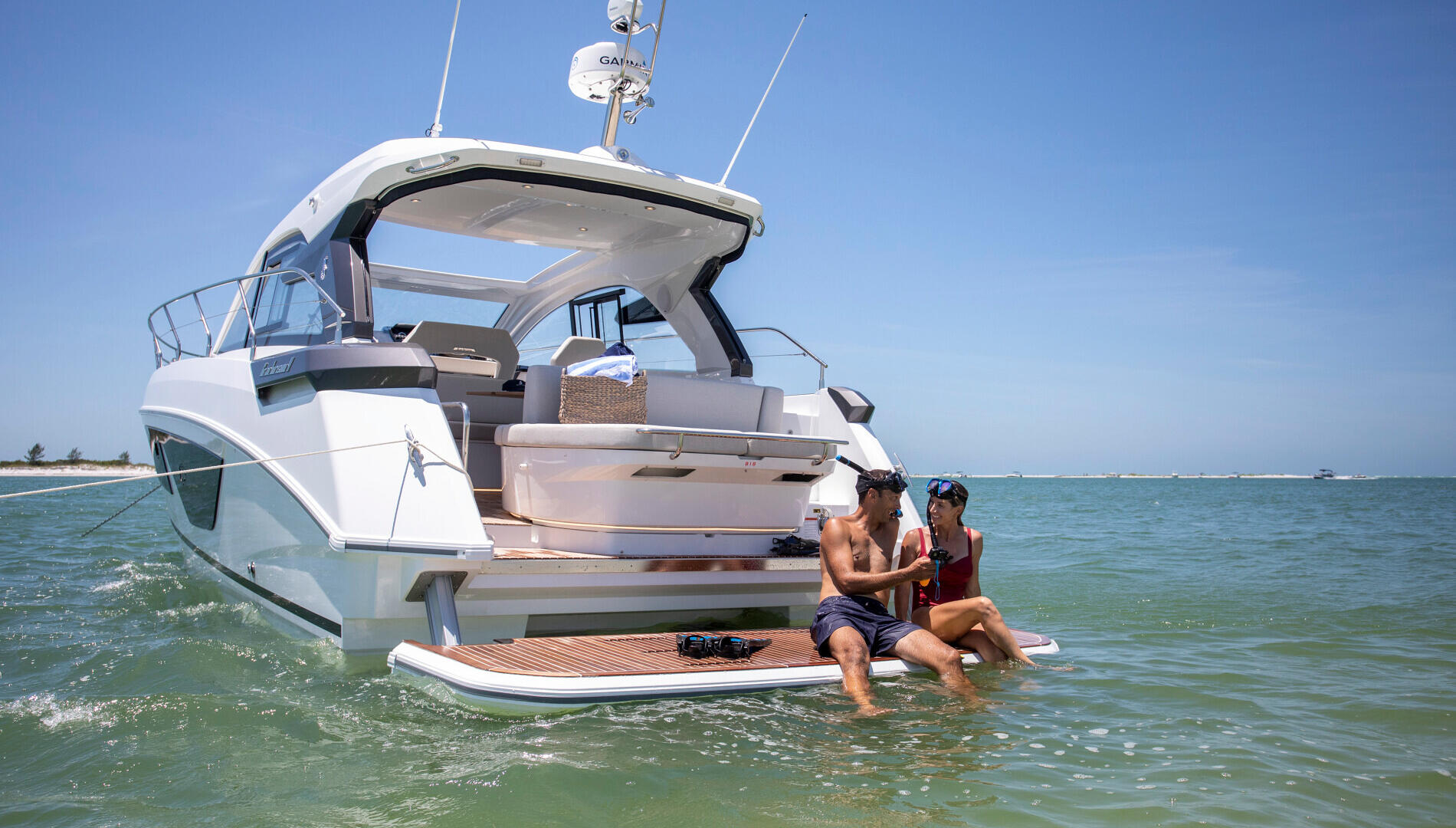 It's almost time for the 44th Cannes Yachting Festival. This September, from 6th until 11th, Europe's leading in-water boat show takes place in two exhibiting areas, at Vieux Port and Port Canto.
Of course, Nautika Centar Nava is attending the festival and will be there to answer any and all questions you might have on Beneteau models on display.
Beneteau Models
Beneteau offers a wide range of motorboats. Whether you're looking for a day boat, a weekender, or a long-distance cruiser, you will find a boat that perfectly fits your lifestyle.
So, here are the models our team is presenting:
Antares 11
Antares 11 is the new flagship of the Antares range. This family cruiser is safe and seaworthy, and its design focuses on space and comfort on board. With a convertible berth in the saloon, double master cabin, and an aft cabin, this powerboat accommodates up to 7 guests. Undoubtedly, the fine performances make it much more than just a weekender.
Fyler 9 SUNdeck
You're guaranteed to have a good time on water with a Flyer 9 SUNdeck. This welcoming day boat has all the latest technology instruments and is easy and comfortable to drive. The accessibility to the spacious front deck is one of its main strong points. Two double berths and a head offer a nice area for refreshing and relaxing. Moreover, you can upgrade the boat with a fishing station.
Gran Turismo 32 OB
The design of the Gran Turismo is modern and perfectly connects various spaces. It's perfect for those who enjoy an open boat and appreciate great lighting and ventilation. Gran Turismo 32 has two double berths, a head with a separate shower, and plenty of large storage spaces.
Gran Turismo 36
The elegant and sporty Gran Turismo 36 is a perfect combination of outstanding handling and comfortable cruising, especially for a boat of this size. The boat features two double cabins, cozy lounge space, galley (plus an optional wet bar with grill), and a bathroom with a separate shower. This fast boat is not only a pleasure to drive, but also a great place to relax and simply enjoy your time on the sea.
Gran Turismo 41
Beautifully designed and elegant, Gran Turismo 41 belongs to Beneteau's express cruiser line. This sporty boat is perfect for relaxation and socializing. In particular, it's due to the U-shaped sofas in the saloon and the cockpit, the small optional outdoor galley, plus the comfortable resting area. Certainly, a well-equipped galley, two private cabins and a fully equipped head are on the lower deck and guarantee excellent "battery charging" for new adventures.
Gran Turismo 45
Gran Turismo perfectly connects the indoor with the outdoor experiences. Its main features are large windows, vast sundeck and the U-shaped seat in the cockpit. The boat is highly comfortable and extremely fit for onboard living. There's an owner's cabin with en-suite head, a guest cabin with en-suite bathroom, a saloon, and a well-equipped galley. The cozy and practical interior bathes in soft, natural sunlight.
Swift Trawler 41 Fly
The innovative practicality of this 40-foot powerboat offers bright and ample living space. It has a capacity of 7 passengers and the large saloon, U-shaped galley, two cabins and the convertible lounge provide lots of comfort on board. The hull that's been designed for optimum fuel consumption effortlessly cuts the sea. Swift Trawler 41 Fly is ready to take you on unforgettable long-cruise experiences.
Swift Trawler 48
Explore new horizons with the Swift Trawler 48. This stylish motorboat focuses on easy living and circulation. The open exterior and flybridge with a panoramic view lets you fully enjoy the sea. The saloon has a large L-shaped galley and a spacious U-shaped seating that hosts up to 8 people. Moreover, there's an owner's cabin, port guest cabin, both with en-suite bathrooms, plus a starboard guest cabin.
Grand Trawler 62
Practical and spacious Grand Trawler 62 has a considerable and efficient cruising range. This long-distance cruiser accommodates from 6 to 8 people + crew. In fact, one of its main features is an impressive, large flybridge. The well-appointed interior includes a saloon with a galley and a dining area, owner suite, VIP guest cabin, and a third cabin with twin beds.
Arrange a meeting!
Join us at Cannes to visit the latest models and discover the newest yachting innovations. Please, arrange a meeting with our team in advance and we'll make sure to answer all your questions.
You can reach out via sales@navaboats.com or by filling out the form below.
We can't wait to meet you in Cannes