Good news, new Gran Turismo 41 is set to launch in 2021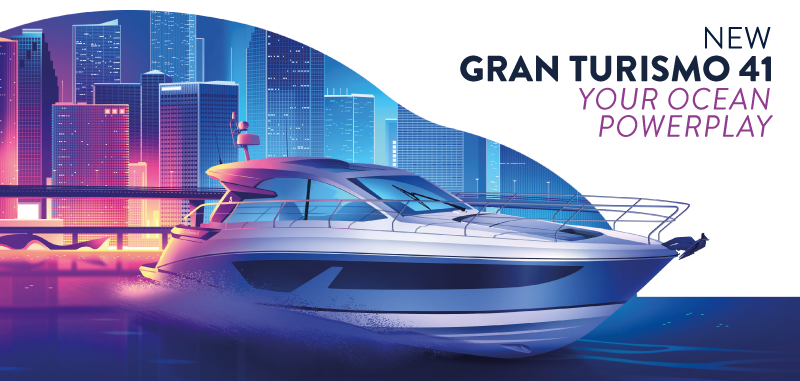 Are you already dreaming about your next boat cruise in Croatia and searching for your perfect seaworthy cruiser?
Summer has just left us and nothing beats the winter blues as looking forward to your next summer getaway. Seize the opportunity to travel on your own schedule and take the step into boat ownership.
Boat enthusiasts adore the previous model Gran Turismo 40. Its elegant design and cruising pleasure make it an icon of the motorboat industry. Now, with the new edition Gran Turismo 41, Beneteau takes boating to the next level. Thus, future boat owners can expect new features, smart details, and an updated design that stays true to the Gran Turismo style.
Why is the Gran Turismo 41 the ideal choice for you?
Its predecessor, GT40, convinces with cruising ease, abundant entertainment possibilities on board, and sleek design. Indeed, the modern Beneteau figure proudly stands out in every marina.
The Gran Turismo 41 builds on the legacy and tradition Beneteau has created, while bringing many exciting new features:
Aft sunbathing area – Elevated to bench height, this amenity creates a maximized lounge area and easy access
Forward sun pad – Now comes with reclining backs, retractable canopy, and courtesy lights on option
Large U-shaped cockpit and redesigned outdoor galley create ample space for entertaining and enjoying a day at sea with your loved ones
Beneteau's landmark, the hard top combined with a sliding roof – To maximize your dose of Croatian sunshine with the largest possible opening while staying protected if the weather shifts
Bright and luxurious interior – Fully equipped with elegant grey walnut, the Gran Turismo 41, accommodates two private cabins that feel spacious thanks to the full beam design and opening portholes
Centered driving station – With optimized outward vision, optional automatic Zipwake trim, while the navigation set-up, joystick, and bow thruster, include a fingertip control tab system that makes maneuvers in narrow situations effortless
Volvo stern-drive power, whether you choose 2 x 300 hp or 2 x 380 hp, let you cruise the Adriatic sea with up to 33 and 38 knots while cruising speeds come in at 23 and 27 knots
With the Gran Turismo 41, Beneteau has outdone themselves once again. A new milestone is set within the express cruiser sector. In early 2021, the launch can be expected to present the market with a vessel that combines agility, safety, and entertainment opportunities.