Beneteau at Cannes Yachting Festival 2023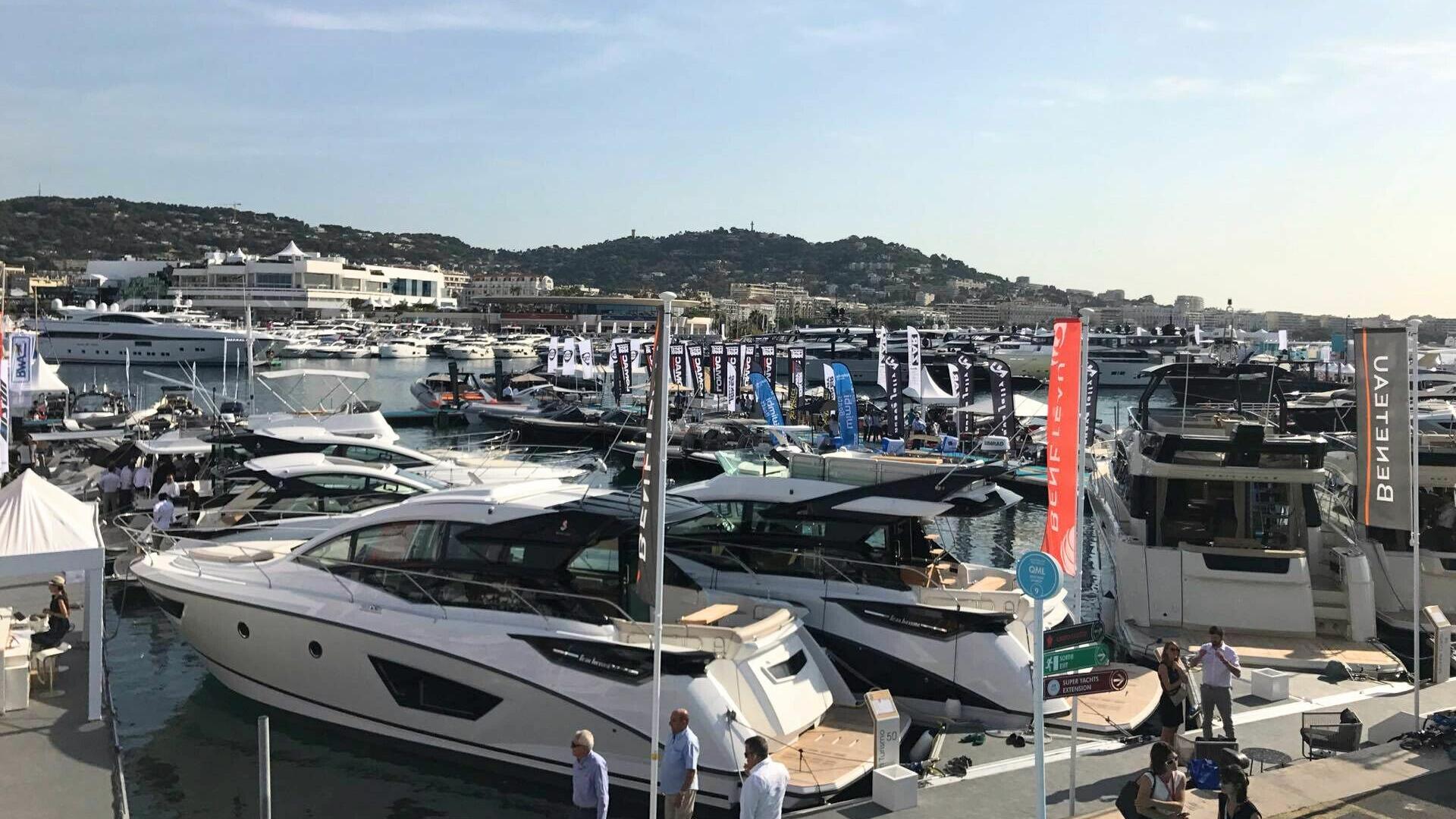 The highly-anticipated 45th Cannes Yachting Festival is just around the corner, set to grace the French Riviera from Tuesday, 12th to Sunday, 17th September 2023.
We are thrilled to announce that Beneteau, a name synonymous with excellence in yacht manufacturing, will be at the forefront of this year's festival. As proud representatives of Beneteau in Croatia, Nautika Centar Nava will be attending the Cannes Yachting Festival 2023. Our expert team will be at the Beneteau stand and docks during the entire event to guide and assist you in exploring the captivating lineup of Beneteau models on display.
Beneteau models
Witness the brilliance of the renowned Beneteau brand at the Cannes Yachting Festival 2023. Prepare to be captivated by the crème de la crème of Beneteau models on display in the exquisite setting of Cannes. Among the masterpieces on display, the spotlight will undoubtedly be on the highly anticipated world-premiere of the Antares 12.
Antares 12
As the showstopper of the festival, the Antares 12 will captivate all who lay eyes on its elegant design and unmatched performance. This marvel of engineering combines cutting-edge technology with unparalleled comfort, setting new standards of luxury in the yachting world. Beneteau takes pride in presenting the Antares 12 as a testament to their dedication to excellence and innovation.
The Antares 12 offers modern luxury with stylish design, generous spaces, and panoramic views from the central living area. Enjoy privacy in spacious cabins and a fully fitted galley, providing all the comforts for a delightful on-board experience. The flexibility to accommodate up to eight guests ensures an unforgettable journey, tailored to your preferences and needs.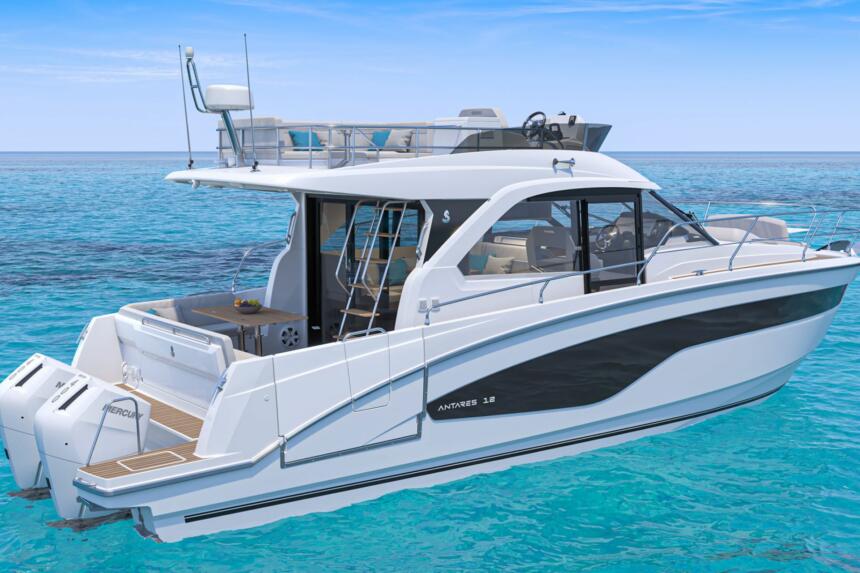 Antares 11
The Antares 11, a spacious weekender with a length overall of 11 meters, offers light and cruising comfort. It's an ideal family cruiser. Its contemporary design highlights the vast glazing in the wheelhouse, providing optimum light and stunning all-around views. With a double master cabin and en-suite shower room, this powerboat accommodates up to 7 people in utmost comfort. The convertible saloon adds to the convenience on board, setting new standards for versatile living spaces.
Gran Turismo 41
The Gran Turismo 41 combines beauty with ease of handling, and impressive speed. With its sporty hull, slender lines, and luxury fittings, this yacht exudes elegance and comfort. The appealing, cleverly designed layout features an array of amenities for both owners and guests. The lower deck provides exceptional comfort with two private cabins, a well-equipped galley, and a head. This guarantees optimum quality of life during cruising adventures.
Gran Turismo 45
The Gran Turismo 45 sets new standards in functionality and on-board hospitality. Elegance in the design, combined with large windows, and a U-shaped cockpit seating, offer a great indoor-outdoor experience. Below deck, enjoy the comfort of the beautiful amidships owner's cabin with en-suite bathroom. In addition, a guest cabin in the bow has a second bathroom. The saloon is a great place for entertaining and includes a large well-equipped galley. Enjoy the modern look, spacious interiors, and versatile options, including a third cabin with bunk beds, for an unforgettable sea escapade.
Swift Trawler 41
The Swift Trawler 41 renews the spirit of the trawler range. With a fluid and balanced profile, this 40-foot powerboat glides through the sea effortlessly. A generously glazed wheelhouse and innovative solutions for easy living only enhance the brightness, user-friendliness, and comfort aboard the Swift Trawler 41. The design boasts a seamless link between the aft galley and cockpit, along with a rotating pilot seat in the wheelhouse. Moreover, there is seating for eight passengers, which doubles as a versatile lounge space and converts to a comfortable double berth. With three cabins below deck, this innovative family cruiser comfortably accommodates up to 7 passengers, making it the epitome of practicality and luxury.
Swift Trawler 48
The Swift Trawler 48 offers practical living and striking style, perfect for seeking new horizons. Enjoy ample exterior spaces, including a spacious aft cockpit, large swim platform with optional hydraulic lifting system, and a panoramic flybridge. Inside, the well-designed interior features a fully-equipped galley, raised U-shaped dinette, and 3 comfortable cabins flooded with natural light through hull windows and overhead hatches.
Grand Trawler 62
The Grand Trawler 62 seamlessly combines practicality with luxury, boasting an efficient displacement hull for long-distance cruises and an impressive, spacious flybridge. Inside, well-appointed interior spaces include a fully enclosed galley and a master cabin and VIP guest cabin reminiscent of a hotel suite. Overall, the yacht offers a stylish, comfortable, and luxurious experience at sea. With the capacity to accommodate 6 to 8 guests (+ crew), this passagemaker ensures an unforgettable stay on board.
Flyer 10
The Flyer 10 is the flagship of the range, with a dynamic dayboat concept and thrilling performance. The design of this comfortable live-aboard powerboat features a full-beam windshield, spacious cockpit, and a unique "smart walkaround" concept. With two double berths, a proper shower room, and abundant storage, the Flyer 10 ensures memorable adventures and luxurious living.
Meet us at Cannes!
Don't miss the exclusive opportunity to experience the magnificence of the Beneteau brand at Cannes Yachting Festival Our experts from Nautika Centar Nava will be on site to provide valuable advice and answer all your questions. You are bound to find the perfect Beneteau model that speaks to your heart's desires.
To make the most of your visit, arrange a meeting with our team in advance. We'll be delighted to address all your inquiries. For scheduling and inquiries, reach out to us via e-mail. See you there!