ANTARES 8 | The Ultimate Family Weekender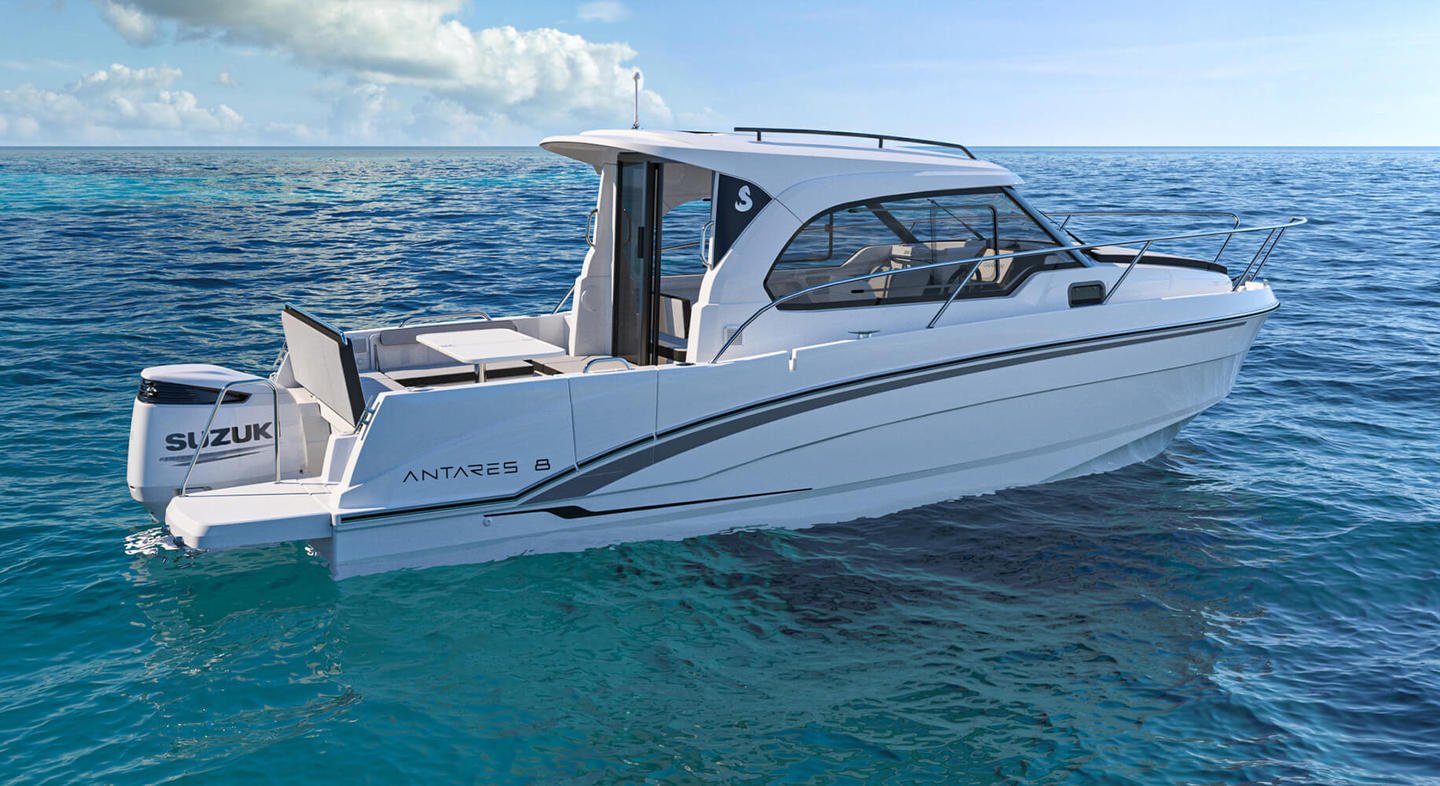 A classic pilothouse cruiser that will never go out of fashion, Antares 8, has come out in a new, more innovative and versatile version than ever before.
This sporty boat comes in two versions, Cruising and Fishing. Each has its own individual character, and both effortlessly embody well-known and loved Beneteau's weekender spirit. While the Cruising version has a sleek profile and offers exceptional comfort, the Fishing version has a sporty feel and meets the demands of all fishing enthusiasts.
A convivial weekender perfect for family outings
New Antares 8 comfortably accommodates up to 9 passengers for exciting day trips. The biggest upgrade comes in the form of a starboard gate. This exciting new feature makes docking the boat easier and allows you to bring even bigger catches onboard. To ensure safe boarding, there are wide platforms flush with the deck. They can also quickly turn into swim platforms for times when you need to refresh in the water. With the widened starboard walkaway, you can easily get to the bow where you're welcomed by a large sunbathing area. It's the perfect place to simply relax and catch some vitamin D!
The modular cockpit in the stern is highly comfortable. There's one more notable upgrade, a removable tabletop. To make things even better, it converts into a bench seat in the cockpit, the folding bench seat in the port freeboard, and the bench seat backing onto the glazed window in the saloon into a spacious sunbathing area or provides you with comfortable seating for a sociable meal or sundowner.
Clever design that is perfect for cruising
Antares 8 OB is habitable and comfortable thanks to all the new clever and practical features. The admirable rear bench seat both serves as storage and can slide forward so there's more space and raising the engine becomes much easier. However, the opposite bench provides an icebox so your drinks and food stay in optimal condition through the whole weekend. Still unsure if there's enough storage for your kayak, paddleboards, maybe even some bikes? Worry not, the roof rack is a perfect place to store all your equipment essential to leisure pursuits.
Comfortable onboard living
Elegant and practical are the best words to describe this family cruiser. Those two features transcend throughout the entire boat. The main saloon with attractive design, top-level fixtures and fittings, and sophisticated upholstery is available in 2 colorways.
New Antares 8 is also highly versatile. For example, you can either make the swiveling helmsman's and the adjustable co-pilot's seats tilted to face the saloon or out to the sea. The large glazed windows also serve many purposes. Not only do they provide wonderful views of the sea and bathe the interior with natural light, but they also keep your Antares airy and well ventilated.
The functional galley area includes a fridge and a hob, either gas or electric.
Are you wondering if there's an option to keep your new Antares 8 cool even during the hot summer months? You're in luck! What makes this boat stand out even more among other cruisers this size is the optional air-conditioning system. It works perfectly both when berthed and at sea thanks to its powerful lithium batteries.
Not only does this boat comfortably fit up to 9 passengers for day trips, but there's also room for up to 5 passengers to sleep over. There are 2 double berths, one in the cabin and the other in the wheelhouse. The space under the saloon is cleverly designed to fit an extra bed. To add to the habitability, the designers of Antares 8 completed the layout with the bathroom and a headroom.
Safe and seaworthy – A pleasure to drive
The new Antares 8 offers great levels of stability on the water and handles well in all conditions thanks to its tulip-shaped hull. The ergonomically designed helm station includes an optional 12-inch control panel. Antares 8 can be powered by a 250 horsepower engine that can reach up to 35 knots of speed. Another bonus is an increased capacity of the fuel tank which is now 340 L.
Antares 8 Fishing, fitted out specially for fishing fans
Are you interested in the Fishing version? Antares 8 is perfectly designed to the smallest detail so it meets the needs of even the most demanding anglers. A spacious, open cockpit makes it extremely easy to move around the boat. There's a rear bench by a fishing station that comes with professional-grade rod holders.
The Fishing version, in addition to the recirculating livewell tank, also has three storage compartments under the cockpit sole. Moreover, one of them can even take a fish box.
Antares 8 also has rod holders fitted into the freeboards and on the roof's hardtop extension. You can also fit the roof with a 12-inch display. This will help you survey fishing grounds. Furthermore, to provide anglers with better night-time visibility, there is a LED light at the front and a search spotlight in the rear.
Get your own Antares 8
Antares 8 will be premiered at the Southampton International Boat Show. Next, the boat will be presented at boat shows across Europe in La Rochelle, Barcelona, Paris, and Düsseldorf.
To secure your own Antares 8, you can contact your local dealer Nautika Centar Nava by sending an inquiry at sales@navaboats.com. Our team will be happy to assist you and answer all your questions!